Vaster Than Sky, Greater Than Space ~ Portuguese Language Edition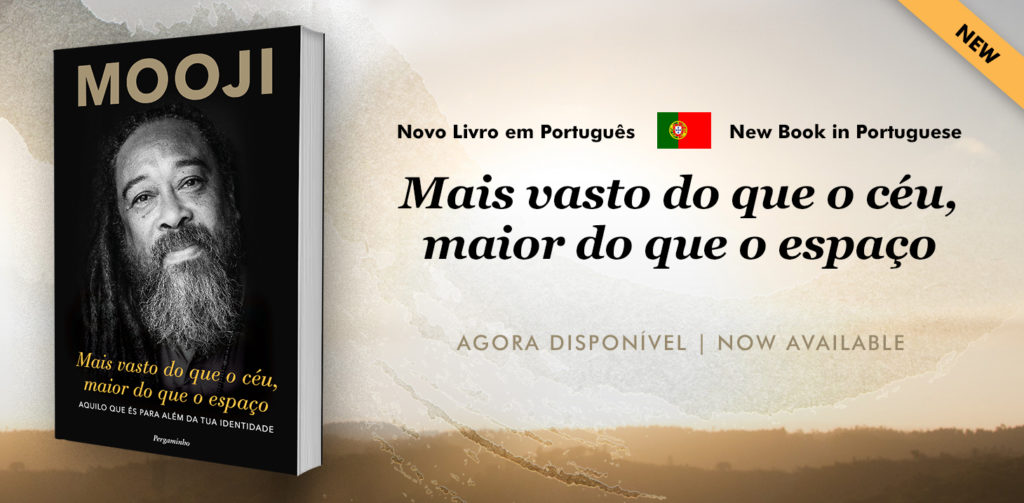 We are delighted that Editora Pergaminho has published this profound book of Mooji's in Portugal. The beautiful Portuguese language edition, Mais Vasto do Que o Céu, Maior do Que o Espaço, is now available here:
Editora Pergaminho
Satsang Shop  

About Vaster Than Sky, Greater Than Space
This book is for anyone who is searching for lasting happiness, peace, and love—for Truth or self-realisation. The teachings and insights offered are sublimely simple, for the method of self-inquiry is like looking into a mirror and recognising your timeless face. Rich in wisdom and insights, and filled with the openness, love and humour that Mooji exudes, Vaster Than Sky, Greater Than Space has the capacity to guide the reader into the direct experience of their true nature, while also addressing questions concerning our place in the world, relationships, family, work and difficulties in life.

Drawing on direct experience and ancient spiritual wisdom, Mooji offers the master key to go beyond personal limitations and discover our essential being—revealing the lasting happiness, peace and love that are inherent in our natural being. You are invited to find out more here.
MAIS VASTO QUE O CÉU, MAIOR DO QUE O ESPAÇO ~ EDIÇÃO PORTUGUESA
Estamos muito felizes por a Editora Pergaminho ter publicado em Portugal este profundo e luminoso livro de Mooji. A edição portuguesa de Mais Vasto que o Céu, Maior do que o Espaço, está a partir de agora disponível aqui:
Editora Pergaminho
Satsang Shop  

Sobre Mais Vasto que o Céu, Maior do que o Espaço
Este livro é para todos aqueles que procuram a felicidade, a paz e o amor na sua expressão permanente; por outras palavras, a Verdade ou realização do ser. Os ensinamentos e as indagações oferecidas são de sublime simplicidade, uma vez que o método de auto-questionamento não é mais complexo do que olhar-se ao espelho e reconhecer o nosso rosto universal e atemporal. Fértil em sabedoria e introspeção, e pleno da abertura, do amor e humor que emana da presença de Mooji, Mais Vasto que o Céu, Maior do que o Espaço tem a capacidade de levar o leitor à experiência direta da sua verdadeira natureza e, em simultâneo, de responder às questões que resultam do lugar que ocupamos no mundo: relações, familia, trabalho, adversidades da vida.

Baseando-se na sua experiência direta e na sabedoria espiritual ancestral, Mooji oferece a chave-mestra para transcender as limitações pessoais e descobrir o nosso ser essencial, revelando a felicidade, a paz e o amor permanentes que são a expressão inerente ao nosso ser natural. Convidamos-te a descobrir mais aqui.