Chant Sahaja Now on Mooji TV and YouTube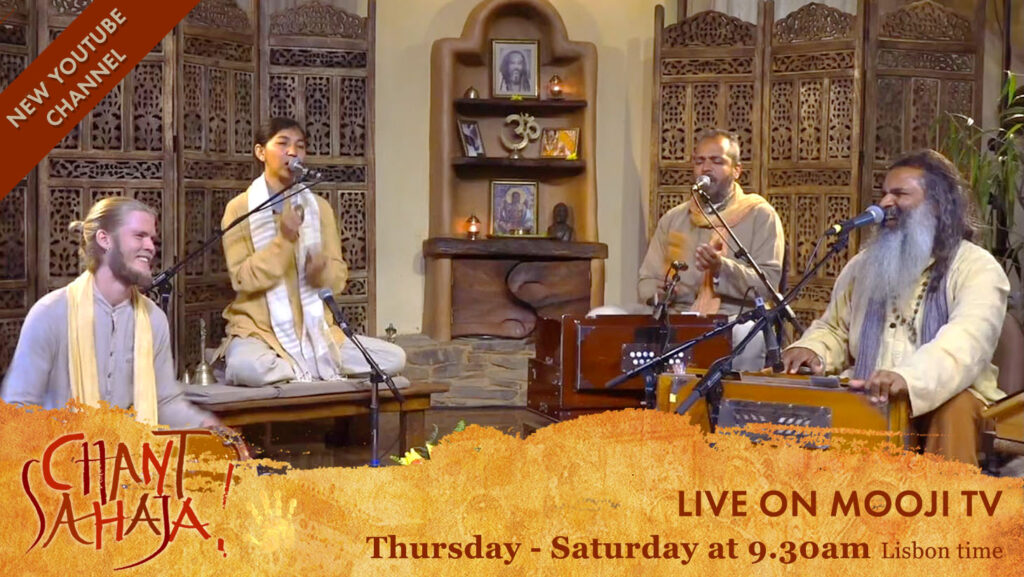 Chant Sahaja, a weekly offering of authentic chants and bhajans from Monte Sahaja, is now available freely to all on Mooji TV and YouTube, with a new collection of individual songs and full-length sessions.
Chant Sahaja is inspired by the spontaneous and heart-infused music from the villages and temples of India. Some years ago, while walking along the banks of the Ganga river in Rishikesh, Moojibaba was struck by the authentic, simple and joyous Bhajans emanating from a small temple. His heart filled with the sweet chants of Lord Krishna's name as he sat quietly in a corner of the humble building.
As he walked home, a powerful urge arose inside Moojibaba's heart to bring this soulful music and its spiritual atmosphere to Monte Sahaja, the Centre for Self-realisation in Portugal—and so was born Chant Sahaja, which has become an intrinsic part of daily life at Monte Sahaja.
Discover Chant Sahaja
A Selection of Chant Sahaja Songs
Chant Sahaja is a direct expression of the presence that radiates from those immersed in Satsang. Each chant is birthed in spirit; they arise from and flourish in the musicians' gratitude, love and reverence to the divine. Many who join the sessions discover that by the end, their mind is silent, their heart full and worries gone.
Rama & Krishna Chants
Shiva Chants
Devi and Peaceful Chants
Moojibaba's Dancing Joy
We'd also love to share with you this precious recording which follows Moojibaba one morning as he was spontaneously swept up in dancing to a daily session of Chant Sahaja.