Papaji Jayanti Broadcast ~ 13 October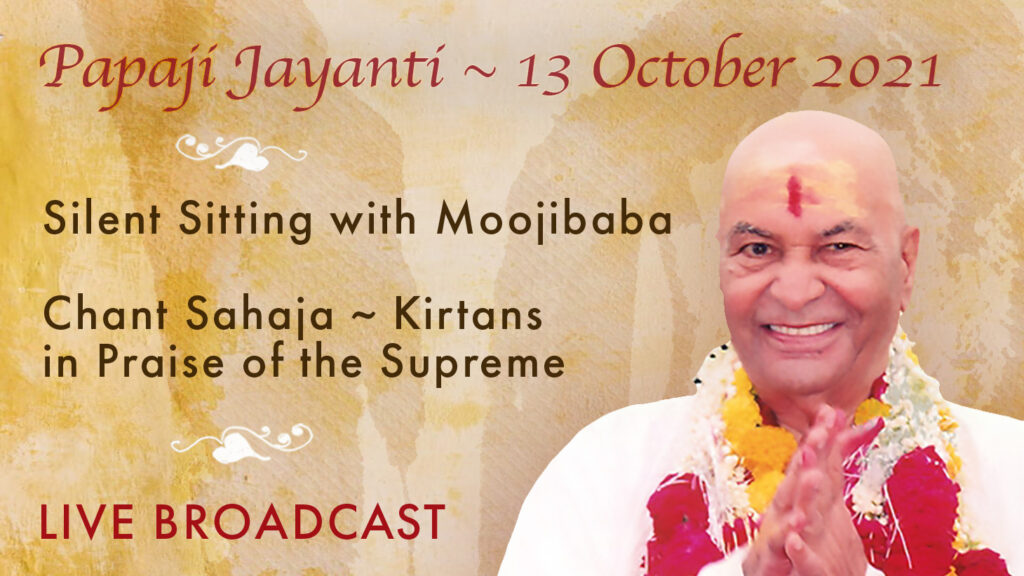 This live Silent Sitting with Moojibaba and Chant Sahaja broadcast is being offered in honour and celebration of Papaji Jayanti on 13 October — the birthday of Sri H.W.L. Poonja (Papaji). Sri Papaji is Mooji's spiritual Master, and we are ever grateful to Papaji for his wisdom, light and presence, for his service to so many beings around the world, and for bringing to us our dearest Moojibaba.
Wednesday 13 October

SILENT SITTING WITH MOOJIBABA

Silent Sittings are an invitation
to meet the silence of your inner Being,
with deep contemplations that go straight 
to the heart of the timeless Self

7:30am Lisbon time on the 'Live' page
~~~

CHANT SAHAJA

An uplifting call and response singing of
different names of God—the Supreme Self

10:00am Lisbon time on the 'Live' page
Find out more about Chant Sahaja here
~~~

These broadcasts are being offered live from Monte Sahaja in Portugal.
All are welcome to join this joyful free offering on Mooji TV.
Join Live Broadcasts Here