An Important Letter from Shree
Managing Director of Monte Sahaja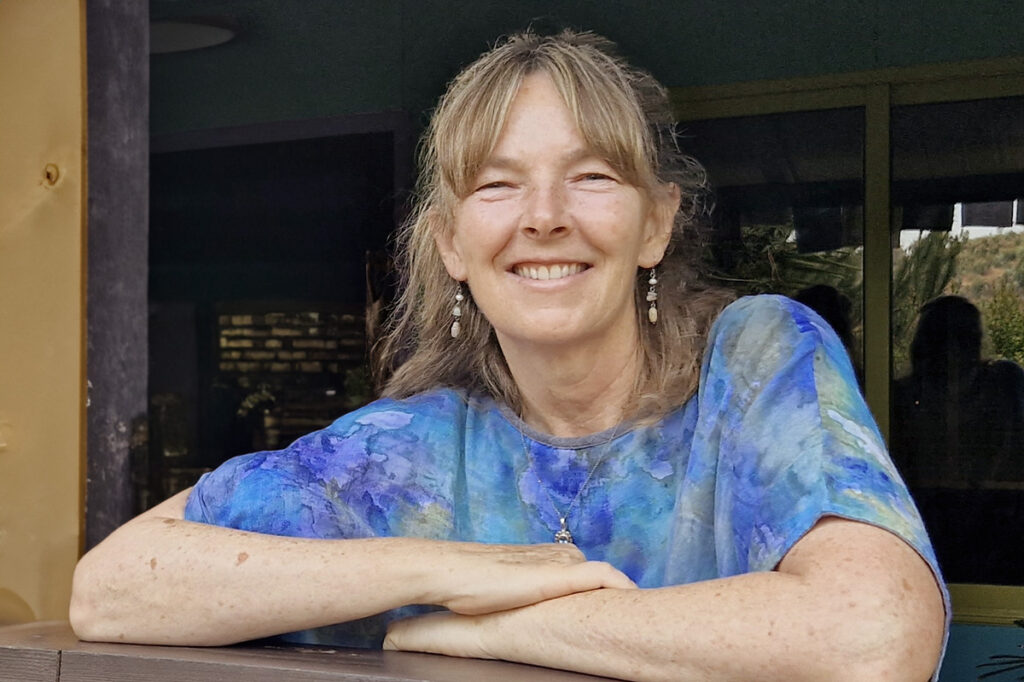 Dear Sangha,
My name is Shree and I am the Managing Director of Monte Sahaja. I am writing this letter to the worldwide Sangha; some of you may know me from the opening announcements at Moojibaba's Satsangs. It is rare that you see me outside of those moments, as my work often happens behind the scenes. But I feel the time is right for me to speak up on the topic of hateful slander on the internet, directed at Moojibaba and our Sangha.
I speak with the experience of 18 years of not only knowing Moojibaba, but living and working by his side. I have been living in Monte Sahaja since the first month of its existence; I came to help out for a few months, and felt so fulfilled and nourished that I remain here to this day.
When I met him in India in 2005, Mooji was known by only a few who accidentally discovered him, sipping chai in a chai shop, and were so touched by his presence that they asked him some questions about life and Truth. From there, it has grown organically and today, millions of people have watched and benefitted from his Satsangs freely offered on YouTube. Mooji has traveled far and wide offering Satsang to those who invited him – those with a thirst for his sharings. Thousands have met him in person in the Satsangs that he has shared in cities around the world.
For those who have never actually met Mooji: It is not uncommon for Moojibaba to spend 16 and more hours a day with people from our team, working on one project or another, sharing Satsang, and so on. There is no division such as 'his life' and 'satsang'. They are one and the same — an unending flow of genuine caring service and love.

RESPONDING TO HATEFUL CONTENT
Most of you are blissfully unaware of what is happening on the Internet, and for that I am happy. But for those of you who have seen hateful slander online, I must ask for your attention. Anyone who knows me knows that it is not my style to engage in personal retaliation, particularly to online hate groups, but I feel it is important for the sangha to know where we stand with the hateful behavior like you see in some online groups.
Sadly, lies, misinformation, and hatred are commonplace nowadays. It is rampant in our societies and particularly online, where people can hide behind fake names and faces, and sling mud while never showing their true identities.
It is abhorrent to me to have to list the things being said in these hate groups, but for the purpose of this letter, I must. There are accusations, for example, that Moojibaba encourages or demands worship and devotion to his physical form (absolutely false), that people are encouraged to leave their friends and families (absolutely false), that people are hypnotised and brainwashed (absolutely false), and most abhorrently, that there is sexual abuse and promiscuity advocated and practiced by Moojibaba himself (absolutely false).
WHERE DO SUCH THINGS COME FROM?
I have always wondered, who are these people posting such hatred and why do they have so much hate? I know that such actions are rampant in the world these days, and that public figures, particularly those who bring light into the world, must withstand attacks on their character. Nonetheless, it was still shocking to myself and to the sangha to read such fabrications.

Most of the people writing the posts are not known to us, and have no direct connection with Moojibaba nor the Sangha. The source of their negativity is inaccuracies and untruths, based on lies and misinformation or plain differences of opinion about styles of gratitude and spiritual instruction.
We know that some people joining these groups are very innocent, and easily believe whatever they read. This is rampant in the world today.
Some who post really believe in a personal cause, from their own past unpleasant or harmful experiences in other communities or with other teachers. They read about our community and our teacher, and it reminds them of a harmful or threatening experience from their past. Then, they take up a case against us, believing that we must be the same as what they have encountered elsewhere. They feel they are fighting a good cause — and indeed their own personal cause may be very worthy and valid. But they have no direct experience with our community.
When we see openness, we are very willing to reach out and speak, and often these misconceptions are easily cleared up.

But most importantly, some of the people posting are very aware of what they are doing: intentionally, skillfully and quite cruelly fabricating rumors and lies. They enjoy this. They are specifically targeting our community and Moojibaba. We are aware of the identities of a few such people. In some cases it seems that an unresolved misunderstanding or resentment from long ago festered and distorted over time into a hatred for Moojibaba and the Sangha. We see this in deliberate attempts to discredit him in any way they can, often with outrageous claims that are absolutely untrue or a twisted version of something quite normal that occurred in my presence.

Please do not take this lightly. Negativity and hateful rumors have a power to them. They can suck you in if you are not careful. You want to read more and more, and it is not healthy. You know from your own experience the feeling of lightness and peace that comes from reading something pure and true, versus reading lies and slander. If associating with certain kinds of activities or people makes us feel heavy within ourselves, it is best to avoid them, without judging them. You must decide for yourself what is in service to your awakening.
ABOUT MOOJIBABA AND OUR COMMUNITY, MONTE SAHAJA

We have sometimes heard our community falsely described as an 'isolated community', a 'cult', or a 'compound' where terrible things happen behind the scenes. I feel to share a bit about our life here.

Monte Sahaja is a community of more than 100 people from all over the world. We range in age from 23 to 70+. We are roughly half male and half female, coming from diverse backgrounds, economic standings and levels of education. What we have in common is our dedication to our own spiritual path, and our love for Moojibaba — his pointings, and his service to the worldwide Sangha.
Our community is unique. It is not a community for the sake of community living. We have come together to serve the larger worldwide Sangha that thirsts for the wisdom of Moojibaba, whose light is truly making a positive, lasting change in this world.
At the heart of our community at Monte Sahaja is a genuine love and care for one another. We are like modern day monks with our focus on our spiritual growth and understanding. We work together, serving the Sangha. And we also eat together, we laugh a lot and enjoy one another's company. We are integrated in the local community here in Portugal; we live here. Our family members from all over the world come to visit us. Many of them begin to follow Satsang and return home with great love and respect for what is happening here, as they see we have grown tremendously thanks to the guidance of our Master.
We see real and lasting change in ourselves and in one another. It is a beautiful life. Actually, it is through our work and our life together that the Satsang really does its magic. It is in the day-to-day 'stuff' that our personal issues show themselves, and with such a supportive community and with the presence of the pointings of Moojibaba, we can see ourselves in a true light and rise above. And, this kind of miraculous and lasting change is happening all over the world, with those following Satsang with Moojibaba from their homes, and in the many sangha groups that gather together around the world.
In closing, dear Sangha: we do not intend to be responding ongoingly to such online campaigns. But it is right to speak up for those whom we love around the world, who want to hear our voice on this matter.
Please know that being part of such hate groups, even if you do not comment or go to them regularly, supports the spread of abhorrent misinformation, and contributes to its reach. When you come upon such negativity and hatred that contradicts your own direct experience, consider it as a moment to check the facts, check within yourself, and make your own inner stand with what you intuitively know to be true.
Sincerely,
Shree
Managing Director, Monte Sahaja